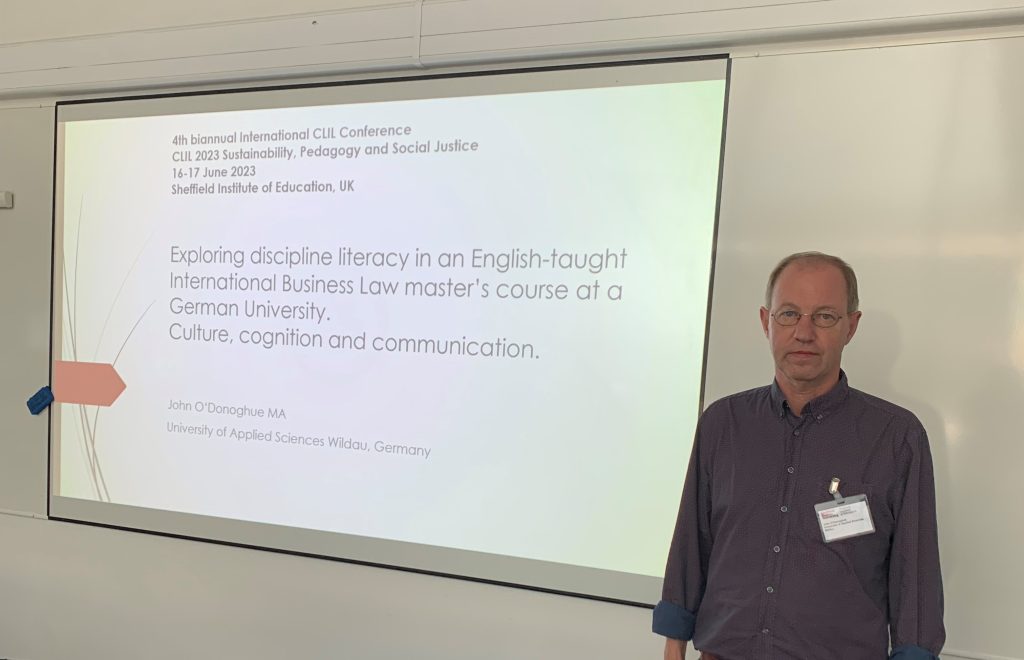 International CLIL conference in Sheffield
The Sheffield Institute of Education in England hosted the 4th Biennial International Conference on CLIL on 16-17 June 2023 http://www.shu.ac.uk/about-us/academic-departments/institute-of-education/events/. Its three main themes were sustainability, pedagogy and social justice. So, we can see that our CLIL4ALL project is in line with topics that concern many of those involved in CLIL across the world. The conference repeatedly dealt with the topic of translanguaging which can be understood as incorporating as many languages in the classroom as the students and teachers possess. This echoes what David Marsh was talking to us about at HAN in the Netherlands, not exclusively imposing the target language onto the learners and excluding all other languages (simply because the teacher does not happen to understand these languages). This approach means including all possible linguistic resources that are available to everyone in the learning process and sends the message that all languages are equally valuable as are the cultures in which they are embedded. It is often those who come from marginalised communities whose languages are ignored and subsequently devalued. Against the background of many children in the UK coming from non-white ethnic communities, this linguistic recognition is part of a deeper appreciation of the culture that many pupils experience in their domestic context. Of course, the traditional role of the teacher as 'instructor' disappears as the teacher becomes a 'co-learner' and 'joint sojourner' in the classroom. Although this idea is not necessarily new, it is one that still challenges some of our deepseated beliefs about the role of the teacher. At the conference there were many inspiring examples of schools that had taken such a courageous path and had actively created a diverse learning experience.
A related topic was the effect of CLIL as a leveller. In many cases it was demonstrated that teaching a subject in a foreign language improved the performance of children who had been less successful at school. This confirms many research findings that learning in a foreign language does not represent an additional cognitive load that should only be imposed on the more able students. On the contrary, it is a natural process that everyone can participate and benefit from.
The conference at Sheffield provided those attending with a range of inspiring talks and useful ideas on bilingual education and the changing nature of learning within a dramatically changing world.